The investment will allow Nissan's plants to build the next generation of electrified, intelligent and connected cars.

Nissan has announced a substantial investment in advanced technologies and equipment for its factories around the world.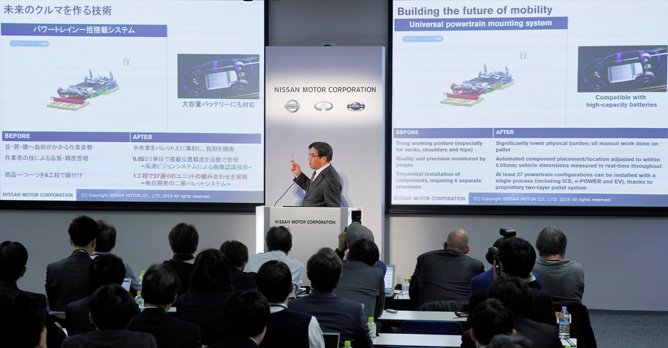 The new investments at the Tochigi Plant in Japan will be rolled out across other plants across the globe These innovations will help deliver a new generation of electrified and intelligent automobiles that embody the company's Intelligent Mobility vision, while also making production operations more flexible, efficient and sustainable.

Following an initial investment of about $413 million at the company's Tochigi Plant in Japan, with work to finish in 2020, the technologies will be rolled out across factories globally.

Nissan's next generation of cars will be electrified, intelligent and connected. This adds new complexity to design and construction and requires major advancements in production engineering.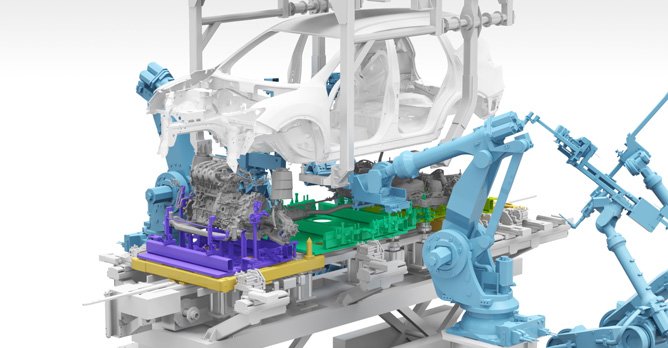 A new Universal Powertrain Mounting System can assemble and mount 27 different powertrain module combinations

One such advancement is a Universal Powertrain Mounting System developed by Nissan's Production Engineering Research and Development Centre.

The system measures the car's dimensions in real time during mounting and makes micro-adjustments accordingly, ensuring that powertrains are installed to within a small fraction of a millimetre's accuracy.

The new system is also highly adaptable. The system can mount three types of powertrains (internal combustion engine, e-POWER and pure electric), and can assemble and mount 27 different powertrain module combinations.

Nissan has also developed certain specialist skills and processes that, until now, could only be performed by trained craftspeople. Through an intensive collaborative process, Nissan's craftspeople and engineers have digitised parts of these delicate processes and 'trained' robots to perform them around the clock. This will allow the craftspeople to focus on new, unexplored areas of expertise.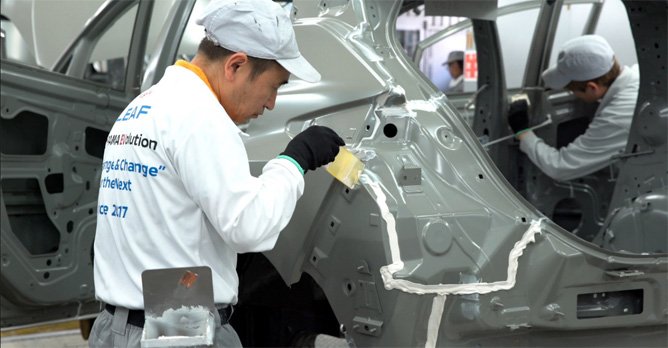 Application of sealants can now be automated after extensive trial and error when tuning robots for the job One example of a task that can now be automated is sealing - applying a paste-like material to seams around the vehicle body to prevent water intrusion.

Sealing is generally done by experts, as the necessary dexterity and speed can be acquired through training but isn't easy to replicate.

However, Nissan's engineers have analysed the precise movements and gestures of trained workers when smoothing and finishing sealant, and calculated the pressure applied at each stage.

They then converted this information into instructions for robots and made further refinements through extensive trial and error. As a result, the robots can now apply and finish sealant quickly and precisely along even the most complex of seams.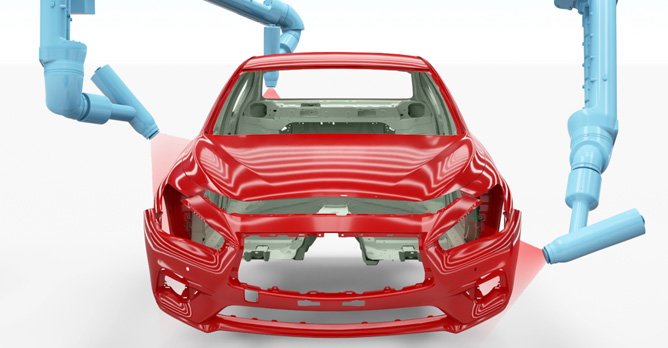 A new water-based paint that allows painting of metal bodies and plastic bumpers together will cut carbon dioxide emissions from painting by 25% Finally, Nissan is also working to reduce the environmental impact of building cars.

Nissan has developed a water-based paint that maintains the right viscosity at low temperatures, so that metal bodies and plastic bumpers can now be painted together. This will cut carbon dioxide emissions from the process by 25%.

Nissan will also use a water-free painting booth that makes it possible to collect all waste paint and reuse it in other production processes.
---
---