A design competition held to promote STEM education sees a 10-year old boy's winning livery unveiled at the eve of the Wales rally GB.

U.K. schoolboy Sam Scharer, aged 10, has won a U.K.-wide competition to design a striking livery for a rally car.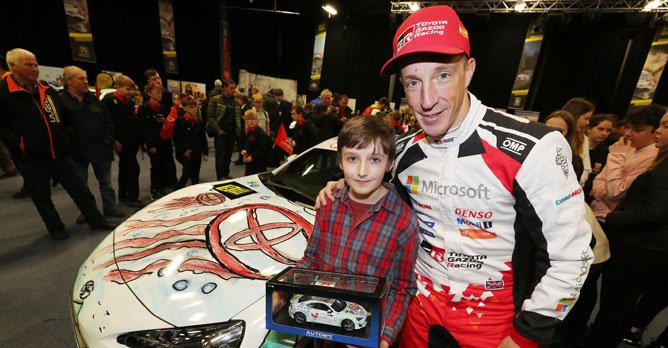 Sam Scharer's competition-winning design was unveiled by Toyota Gazoo Racing WRC star Kris Meeke The resulting Toyota 86 sportscar, wrapped in Scharer's prize-winning sea-themed design, was publicly unveiled in Llandudno on the eve of this year's Wales Rally GB, the U.K.'s round of the FIA World Rally Championship.

Adding to the occasion, the covers were pulled off by Toyota Gazoo Racing WRC star Kris Meeke.

The multiple WRC round winner was joined by Gwenllian Roberts, the Welsh Government's Chief Regional Officer for North Wales.

Scharer, whose striking patriotic design was selected from hundreds of entries in the U.K.-wide competition, was also present to savour the special occasion. He first saw the embodiment of his design earlier in the week when the 86 visited his school, where it drew admiration from both staff and students.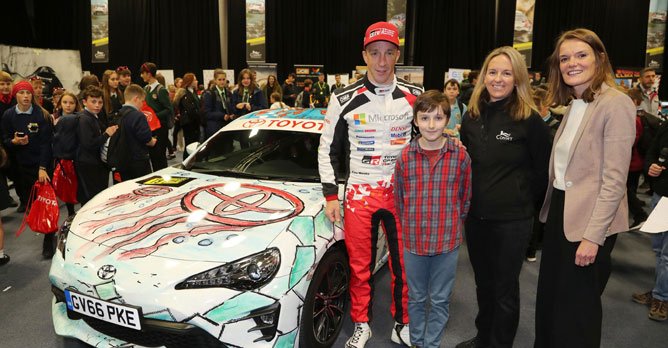 The winning livery was part of an exhibiton to promote science, technology, engineering and math-based industries in Wales The 86 - kindly provided by Toyota - remained on show over the weekend in the free-to-enter 'Big Bang' Industry Awareness exhibition based in Venue Cymru, Llandudno.

Located alongside the WRC pits and paddock complex, where all the competing Wales Rally GB teams are located, the Big Bang showcased a wide range of companies who specialise in science, technology, engineering and maths, inspiring more than 1500 visiting students from educational establishments throughout Wales.

The competition was a joint initiative between the rally organisers Motorsport U.K., Toyota and the Engineering Education Scheme Wales on behalf of the Welsh Government, and was open to all primary, secondary schools and colleges in the U.K.
---
---