Continental's Integrated Interior Platform promises to deliver both connectivity and automated mobility for the future.

Continental will be presenting the latest version of its Integrated Interior Platform (IIP) at the 2019 Frankfurt Motor Show.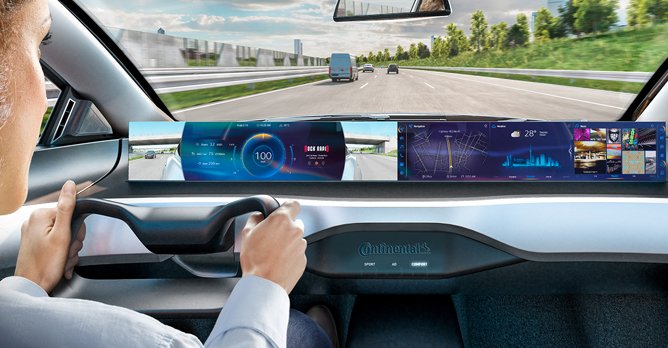 Continental's IIP display can toggle between different sizes depending on if the car is being manually driven

Continental's IIP high-performance computer provides the basis for interaction between humans and vehicles in the connected cockpit of tomorrow. In its cockpit demonstrator, the technology company will show how it combines various displays, such as the instrument cluster and the center console display, with internet-based services to form a complete connectivity solution. The IIP is a milestone in seeing in-car electronics move away from many individual control units to a few high-performance computers.



The IIP exhibit will also feature displays connected across the entire width of the cockpit under a glass surface, highlighting the number of functions that fully connected vehicles must be able to master at the same time. The digital driver display, for example, will show the view of the digital rear-view mirror in addition to traditional readouts.

Moreover, the driver can also use gestures to retrieve content such as high-resolution navigation maps from the passenger display. If the driver then switches to automated driving mode, the full display is shown, featuring all internet-based services and apps that are otherwise only available on the passenger side.

Members of the public can visit the IIP at the Frankfurt Motor Show from 12 to 22 September, in Hall 8.

---
---