The Last Overland expedition from Singapore to London was flagged off on 25 August 2019 from the Singapore F1 Pit Building in Marina Bay.

25 August 2019 marks the start of The Last Overland expedition from Singapore to London, one of the most historic automotive events of the 21st century.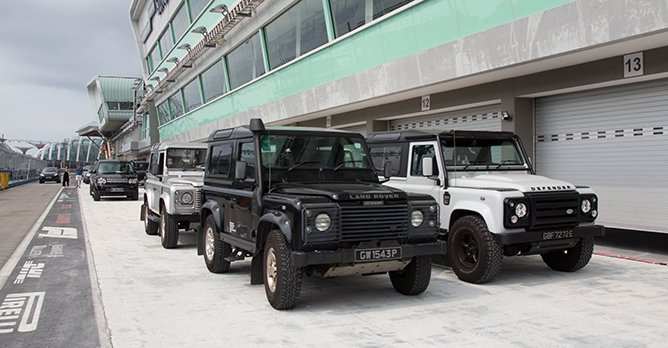 A convoy consisting of 90 Land Rovers from different generations escorted 'Oxford' to the border of Singapore The Last Overland expedition team aims to recreate the original route which two Land Rovers named 'Oxford' and 'Cambridge' charted from London to Singapore on The Oxford and Cambridge Far Eastern Expedition (The First Overland) in 1955.

This expedition will take them through the jungles of Malaysia and Myanmar, the mountains of the Himalayas and northern Turkey, and the deserts of the Middle East, as well as over 20 countries, including Nepal, China, Uzbekistan, Iran and Bulgaria. The aim is to arrive in London within approximately 100 days of setting out from Singapore.

On this expedition, 'Oxford', a Land Rover Series I built in 1955, will return to its home in the U.K., driven by a team of eight, including Nat George, grandson of Tim Slessor (a member of The First Overland), British filmmaker Alex Bescoby, as well as Singaporean Larry Leong. Unfortunately, Tim Slessor who was poised to get behind the wheel of 'Oxford' once again, was unable to join the team at the flag off due to health concerns.

The team was flagged off from the start line at the Singapore F1 Pit Building in Marina Bay, a location fitting for the beginnings of all grand motoring adventures. The team was cheered on by Nigel Newbury and Patrick Murphy, two surviving compatriots of Tim from The first Overland. Now both in their eighties, Nigel and Patrick were on hand to give some sound last-minute advice to the Last Overland team - when you reach corrugated roads, proceed through at speed!

To commemorate this historic event, a record-breaking convoy of 90 Land Rovers, driven by local enthusiasts, including members of the Land Rover Owners Singapore escorted 'Oxford' to Singapore's border with Malaysia.
---
---