Porsche is entering a new era with the new Taycan and the brand's first all electric sports car is setting new standards in interior design.

Porsche has released interior images of the new Taycan and is promising to set new standards in interior design with the car.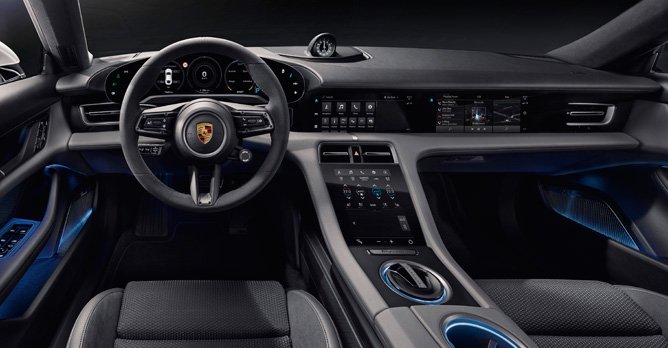 Elevated centre console will intensify the feeling of a low seating position Classic design features have been reinterpreted and brought into the digital age, with an innovative instrument cluster consisting of a curved 16.8-inch screen with the rounded look that is typical of Porsche. Real glass and a vapour-deposited, polarising filter give anti-reflective properties.

Meanwhile, Porsche claims that all user interfaces have been completely redesigned for the Taycan. The number of traditional hardware controls, such as switches and buttons, have been greatly reduced.

Instead, emphasis has been set on intelligent and intuitive control via touch operation or a voice control function that responds to the command 'Hey Porsche'.

The elevated centre console intensifies the feeling of a low seating position, as you would expect from a Porsche. It features a large 8.4-inch touch panel with haptic feedback. This allows the air-conditioning settings to be altered directly. Integrated handwriting recognition also allows quick address inputs.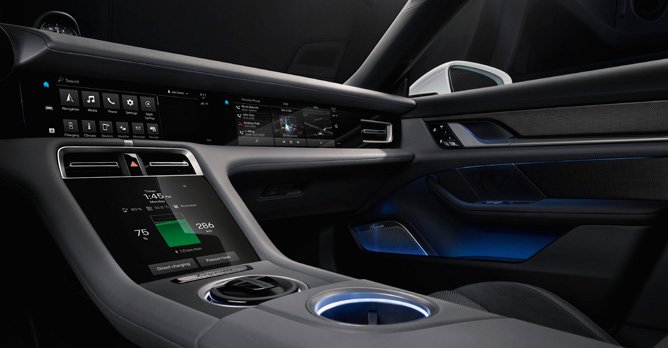 A wide variety of interior surface materials will be offered for the interior of the Taycan Buyers of the Taycan will also receive a wide choice of materials to choose from, whether it be traditional or sustainable and modern.

There is the option of classic leather as well as the sustainably tanned Club Leather, which uses olive leaves for a less pollutive tanning process. The natural quality of the leather will also accentuated by means of a special cloud print.

A fully leather-free interior is also available, with the utilisation of  state-of-the-art surface textures instead. 'Race-Tex' high-quality microfibre material partially consisting of recycled polyester fibres feature for this interior option. Its production generating 80% less CO2 than traditional materials. The floor covering uses the recycled fibre 'Econyl', which is made from, among other things, recycled fishing nets.
---
---