A new online tool that links individual emissions to specific climate projects allows drivers to enjoy their driving thrills with a neutral carbon footprint.

Porsche customers in the U.S. can now combine their driving thrills with a neutral carbon footprint. Porsche Cars North America, Inc. (PCNA) has launched Porsche Impact, an online tool that links individual CO2 emissions to specific climate projects. The program is available to U.S.A customers after PCNA earlier this year enrolled its own Porsche Experience Center cars and its Porsche Passport subscription fleet.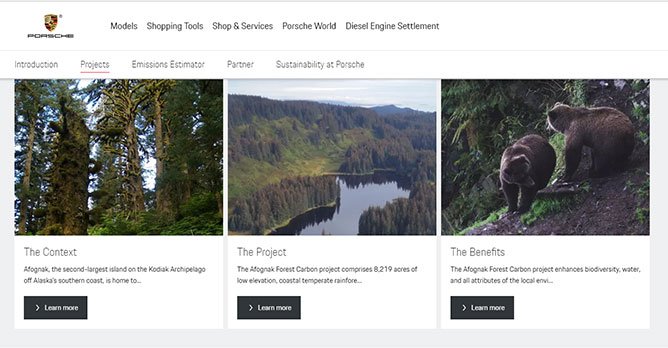 Drivers can choose to support various projects across different countries at the Porsche Impact website Porsche Impact is a web-based emissions calculator that allows Porsche owners to assess and compensate for CO2 emissions, based on mileage and average fuel consumption. Customers can then follow a quick link to make financial contributions to environmental projects designed to offset their individual carbon footprint. 



"Porsche drivers want it all, and offering an option for greater sustainability is part of creating a superb Porsche experience," said Klaus Zellmer, President and CEO of PCNA. "Porsche Impact connects our strategies for innovation, mobility and sustainability with the individual customer."





Users can choose from four different internationally certified projects to support. The available programs are focused on forest protection in the U.S.A, hydropower in Vietnam, solar energy in Mexico, and habitat preservation in Zimbabwe.





The Porsche Impact offset programs are managed by South Pole, a Swiss-based provider of carbon offsetting projects and sustainability financing that has been active internationally for more than a decade. Impact has also been available to customers in Germany, the U.K., and Poland since late 2018.
---
---