Adding more punch behind the appeal of its new SUV lineup, Mitsubishi unveils an all new showroom, together with the limited edition Eclipse Cross Black.

Cycle and Carriage and Mitsubishi Motors unveiled their new Mitsubishi design concept showroom on 29 July at 239 Alexandra Road.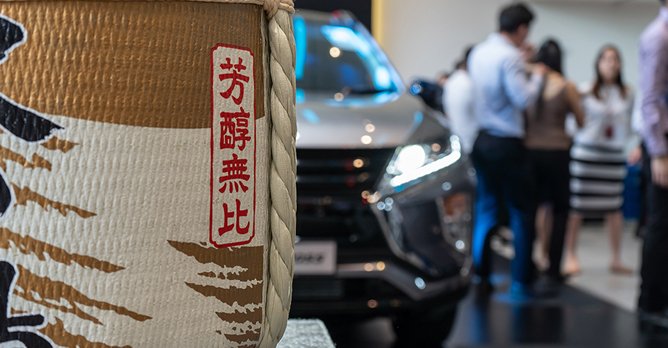 Japanese sake barrel ceromony and a lion dance opened the new showroom - a merging of Japanese and local culture Guests at the event were treated to a Japanese Taiko drum show, followed by a more familiar lion dance to open the new showroom. A 'Kagami-Biraki' or sake barrel ceremony was also held. A traditional Japanese symbol of harmony, Cycle and Carriage hopes that the event will grace the showroom with a future filled with good fortune and harmonious relations.

The theme of 'harmony' was also quite apt, with Cycle and Carriage presenting a video showcase demonstrating the work it has done to harmoniously merge Japanese innovation with affordable mass market models throughout their history of operations here in Singapore.

Featured within the video showcase was the technologically standout Mitsubishi 3000GT, as well as the lifestyle-oriented Pajero, and right down to the popular Mitsubishi Lancer - Singapore's best-selling model for the year 2007.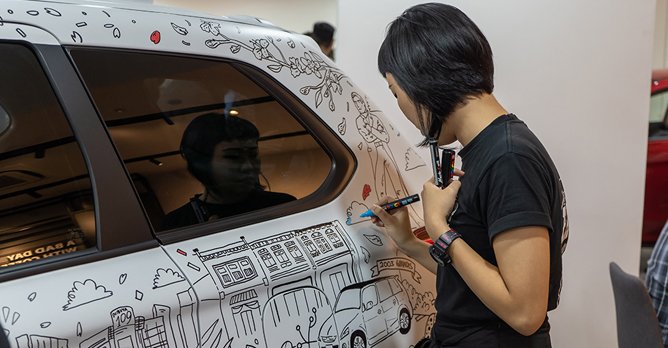 Mitsubishi Oulander art car showcased familiar Mitsubishi models against backdrops of familiar Singapore landscapes These iconic and well-remembered models from Mitsubishi's stable were also featured on a Mitsubishi Outlander art car, which was specially wrapped to showcase various Mitsubishi models alongside iconic Singaporean landscapes in a doodle art style and is currently on display at the showroom.

Cycle and Carriage was also eager to point out that new Mitsubishi owners will also be able to take part in many of the exciting new activities being organised as part of its 120th anniversary celebrations.

New Mitsubishi owners have already been treated to a host of movie screenings with still more activities planned, while Cycle and Carriage is also celebrating with a regional anniversary campaign by giving away 120 exceptional journeys to its valued customers in Singapore, Malaysia and Myanmar, comprising of special curated trips to three enticing destinations: Mongolia, Nepal and Korea, with each destination representing the unique opportunity to capture the adventure, culture and metropolitan living of Asia respectively.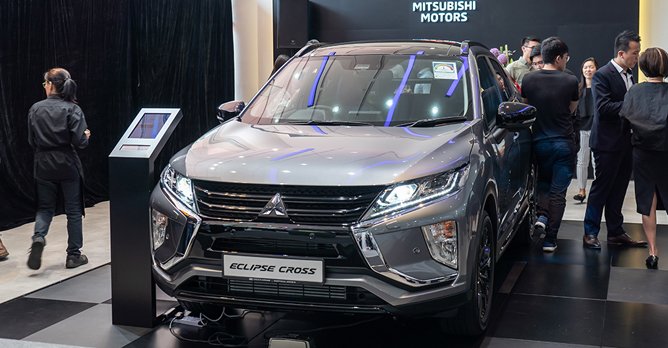 The limited edition Eclipse Cross features blacked out alloy wheels, front grille and side mirrors to set it apart from regular Eclipses To further commemorate the afternoon, the new limited edition Eclipse Cross Black Edition was also unveiled at the event, sporting a distinctive black front grille and side mirrors, plus red stripped front, side and rear body extensions with exclusive 18-inch black alloy wheels to set itself apart from regular Eclipse Cross models.

No official announcements have been made regarding the pricing for the Black Edition, but our enquiring revealed that it would be reasonable to expect a $3,000 premium over a regular Eclipse Cross for the limited edition model.
---
---