One of the world's largest automotive care specialists, TYREPLUS, has opened its second outlet in Singapore today in a joint partnership with Shell Autoserv.

TYREPLUS, one of the world's largest one-stop centres for car maintenance services supported by Michelin, owner of the TYREPLUS brand and concept, has collaborated with Shell Autoserv to launch the first Autoserv TYREPLUS workshop in Singapore.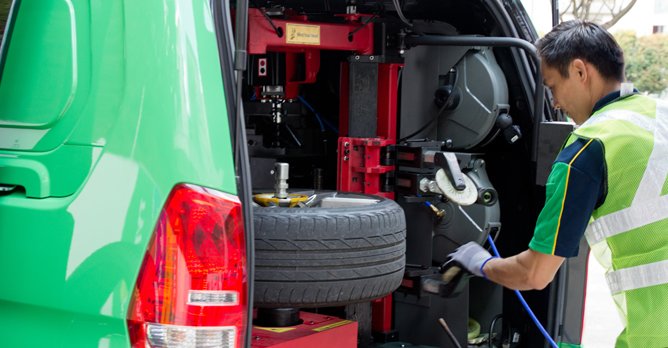 Showcased at the Autoserv TYREPLUS workshop opening was its mobile service vehicle, which offers tyre services at your doorstep Additionally, this location will be the first TYREPLUS workshop where its new mobile service vehicle will operate out from.

The TYREPLUS mobile service vehicle will be able to provide various tyre services, from repair, replacement and balancing, as well as engine oil servicing right at the customer's doorstep.

It can carry up to 16 tyres and provide up to three oil changes at one go, with a service response in under an hour. More service vehicles will be deployed throughout the year.

Conveniently located in a Shell station along Upper Bukit Timah Road, the new Autoserv TYREPLUS workshop offers a wide range of premium, mid-range and budget car services, including tyre change and repairs, lubrication, wheel balancing, wheel alignment, alloy wheel maintenance, battery change, vehicle servicing, oil change, brake servicing, and air-conditioning servicing.

With Autoserv TYREPLUS situated in a Shell station, customers can also enjoy the wide array of offerings from Shell Select and its own food label, Deli by Shell, when their vehicles are being serviced. Deli by Shell offers a wide range of ready-to-eat meals inspired by local favourites and a range of more than 150 products across sandwiches, snacks and beverages, from fruit juices to teas and water.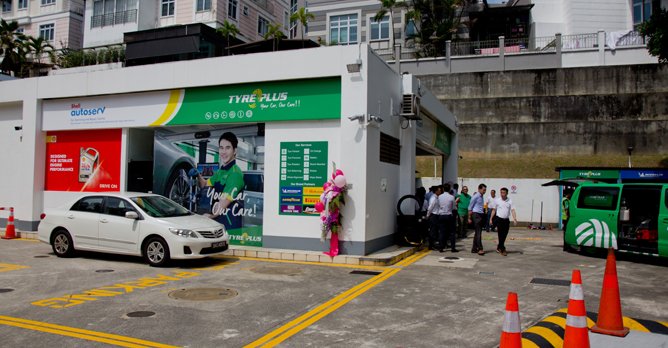 Autoserv TYREPLUS is the second TYREPLUS outlet here in Singapore, offering vehicle maintenance services closer to the city This Autoserv TYREPLUS workshop follows the debut of the first TYREPLUS outlet in Singapore in Wave9, Woodlands Industrial Park, in February 2018.

Like the flagship outlet, Autoserv TYREPLUS offers tyre-related services, fast-fit parts and repairs, as well as regular maintenance services, albeit at a smaller location. It serves as an added location for the convenience of vehicle owners for quick diagnosis and lighter repairs, and will do referrals to the flagship outlet for more complex issues as and when necessary.

All services provided by Autoserv TYREPLUS's workshop and mobile service vehicles will be cost-effective, with the added bonus of convenience and time-saving.

From today to 31 October 2019, customers visiting Autoserv TYREPLUS will receive a free wheel alignment with purchase of four Michelin tyres of any model or size. Customers will also receive up to $40 off for its engine oil service using Shell Helix Ultra, and 20% off for Energizer automotive battery replacement.

Autoserv TYREPLUS is located at Shell Bukit Timah Hill, 219 Upper Bukit Timah Road, Singapore (588186). It is open on Monday to Friday from 9:00am to 6:00pm, and Saturdays from 9:00am to 3:00pm. Autoserv TYREPLUS is closed on Sundays. To find out more, visit TYREPLUS Singapore's official Facebook page, here.
---
---