In the second Certificate of Entitlement bidding round for July, Cat A premiums fell while Cat B and E premiums increased.

In the second round of bidding in July, Certificate of Entitlement (COE) prices for Cat A decreased, while Cat B and E premiums rose.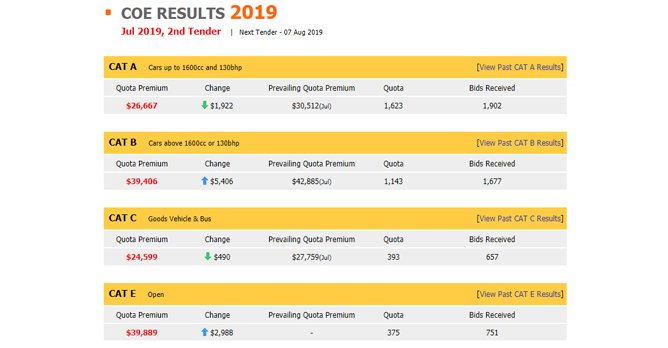 In the last round of bidding for July Cat B and E premiums rose, with Cat B recording the biggest increase Premiums for Cat A, for cars up to 1,600cc in engine capacity and with an output of no more than 130bhp, decreased by $1,922 (6.7%) and ended at $26,667.

Premiums for Cat B, larger cars with more than 130bhp or engine displacements larger than 1,600cc, rose by $5,406 (15.9%) and ended at $39,406.

In Cat E, the open category, premiums went up by $2,988 (8.1%), with premiums closing at $39,889.

The increase in premiums for Cat B and E could be due the recent release of popular models such as the Porsche 911 and the BMW 7 series. This can be observed from the increase in bids recieved for Cat B and E. At the same time, the falling premiums for Cat B and E over the past few months could have enticed buyers to make their purchases. Cat A premiums witnessed a slight fall thanks to an increase in quota of 192.
---
---