The Porsche Taycan makes its public premiere at the Porsche Experience Centre in Shanghai as part of the Triple Demo Run.

The Porsche Triple Demo Run has kicked off with the first official demo laps on the handling track at the Porsche Experience Centre in Shanghai. A still camouflaged Taycan prototype is making three appearances on three continents in the period of three weeks, visiting China, the U.K. and the U.S, each important sales markets for the first all-electric sports car from Porsche. The livery on the roof is a tribute to each of the guest countries: In Shanghai the prototype featured a dragon graphic. Behind the wheel of the Taycan was Li Chao, a driver from the Porsche Carrera Cup Asia.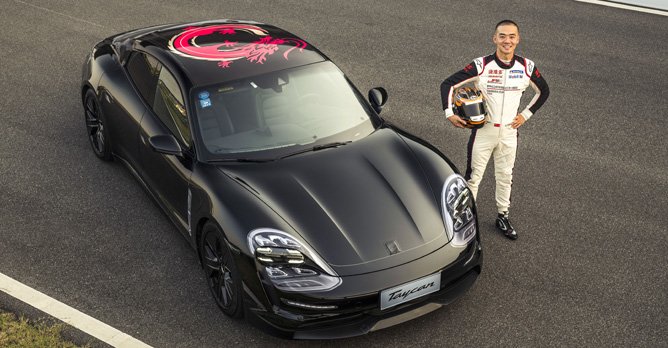 The Taycan receives a special dragon graphic on the roof for its visit to Shanghai "The exceptional performance typical for Porsche was a clear development objective for the Taycan. You can sense that right from the start," says Li Chao.

He was particularly impressed with the handling, "From uncompromisingly sporty to surprisingly comfortable, the chassis of the new Taycan covers a wide range and successfully combines the precise handling of a sports car and the long-distance comfort of a saloon. In addition to its low centre of gravity, the rear-axle steering also plays a crucial role." explains Li Chao.

The Taycan will also demonstrate its potential at the other stops on the Porsche Triple Demo Run: In the Hill Run as part of the Festival of Speed at Goodwood from 4 to 7 July and at the season finale of the ABB FIA Formula E Championship in New York from 13 to 14 July 2019. Again, there will be famous drivers behind the wheel, Mark Webber and Neel Jani.

Before the Taycan celebrates its world premiere in September, it will have covered around six million test kilometres. At Porsche, electric cars must undergo the same rigorous testing programme as combustion-engine sports cars. In addition to displaying superior performance, this always includes proving unrestricted everyday usability in all climatic conditions. Particularly demanding tasks such as charging the battery or controlling the temperatures for the drivetrain and interior under extreme conditions are additional aspects that are tested for the battery electric models.
---
---