The new Aston Martin Vantage GT4 made a victorious debut int he 2019 Nurburgring 24-hour race, dominating the SP8T class.

The new Aston Martin Vantage GT4 made a victorious debut in the 2019 ADAC TOTAL 24 Hours (N24), dominating the SP8T class for close-to-production vehicles in the legendary Nurburgring Nordschleife-based endurance race.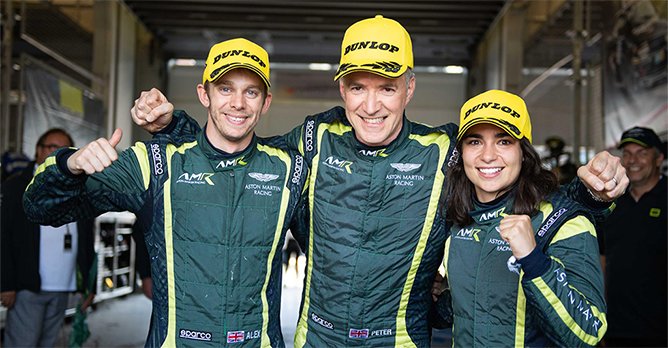 The trio of Brundle (left), Cate (centre) and Chadwick (right) piloted the #37 car to SP8T class victory Aston Martin's Nurburgring success was particularly emphatic with one of the two works-entered cars leading their class for more than 20 hours of the race. It marked a triumphant first outing in the event for former European Le Mans Series champion and current LMP2 driver Alex Brundle and was the second 24-hour race victory in an Aston Martin for W-Series championship points leader Jamie Chadwick. It was also the second class win for their co-driver in the #37 works entry, Aston Martin regular and Nordschleife veteran Peter Cate.

This was the ninth class victory in 14 attempts for Aston Martin at the notorious N24, and run out of the locally-based AMR Performance Centre, the two Sterling Green Vantage GT4s ran almost faultlessly with only minor issues experienced. That an accident during the night involving the sister #36 Vantage prevented a likely double-podium for the car, is testament to the Vantage's competitiveness. A true reflection of the quality of the Vantage road car the GT4 racer is heavily based on, both race cars finished the ultimate endurance test with #37 finishing 28th overall.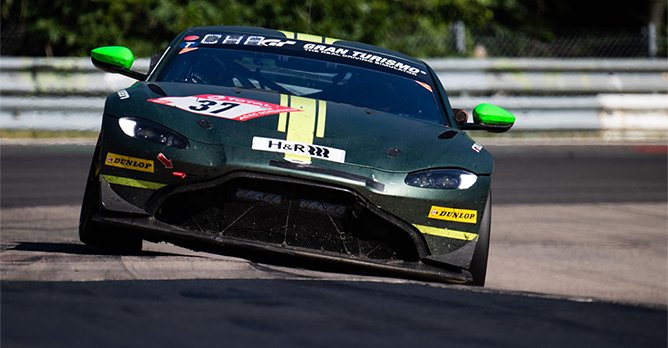 The Aston Martin Vantage GT4 dominated its class, leading it for more than 20 hours of the race Jamie Chadwick said, "It's rare that I'm lost for words, but this is one of those moments when it's hard for me to put my emotions into sentences. It was a bit stressful at the end as we managed the car and the nerves but I am just so happy! I have done three 24-hour race and I've won two of them in Aston Martins."

Alex Brundle said, "A debut class win the in the N24! It's hard to put in to words what this means to me. I'm really thankful for the opportunity to come and race here firstly. The team we had behind us was magnificent. So many of them had so much experience, and I've learned an enormous amount this week.

"It's just such a hard event. It's so macro, so tough. You lose massive amounts of time when things go wrong and because the circuit is so hard on cars it's always hovering over you. The chance to make an error that is going to cost you 20 minutes to an hour in the pits. That kind of pressure that puts on you gives you a massive release when you cross the line," he added.
---
---