In the second Certificate of Entitlement bidding round for June, premiums across all car categories went down.

In the second round of bidding in June, Certificate of Entitlement (COE) prices fell across the board.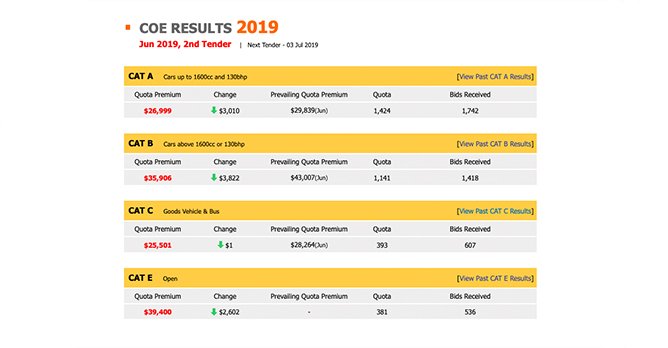 COE premiums fell across all car categories in the second round of bidding in June Premiums for Cat A, for cars up to 1,600cc in engine capacity and with an output of no more than 130bhp, decreased by $3,010 (10%) and ended at $26,999.

Premiums for Cat B, larger cars with more than 130bhp or engine displacements larger than 1,600cc, fell by $3,822 (9.6%) and ended at $35,906.

In Cat E, the open category, premiums went down by $2,602 (6.2%), with premiums closing at $39,400.

The fall in COE demand across the board indicates a continued slump in new car sales, while COE revalidation remains popular among car owners. Market observers said a record number of people extending the lifespan of their vehicle COEs in the first quarter may have reduced replacement demand. If this persists, premiums should remain soft for the rest of the year.


---
---