The forward-thinking all-electric Kia Niro EV with a futuristic and modern design was launched at Kia's showroom in Singapore

The new all-electric Kia Niro EV was unveiled in Singapore at Kia Singapore's Alexandra showroom, on 12 June 2019.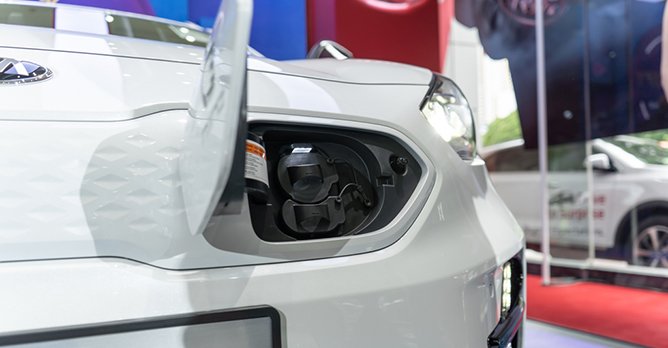 The Niro EV features Kia's trademark 'tiger-nose' grill, which houses the car's charging port as well Kia Niro EV is Kia Singapore's timely first foray into the Electric Vehicle (EV) category locally, as both the demand for EVs and the infrastructure to support them have been vastly increasing in recent times. As the latest offering in the EV market here, the Kia Niro EV is a strong competitor to fellow Korean brand Hyundai's Kona Electric, which shares a similar powertrain.

The Niro EV features a futuristic and modern design, which incorporates Kia's trademark 'tiger-nose' grille with a twist - the charging port is integrated to the grille.

Meanwhile, redesigned air intakes and new arrowhead-shaped LED daytime running lights combine with light-blue trim highlight to emphasise the car's sleek profile along with its slim character line and tapered rear windows. Stylish five-spoke 17-inch aluminium alloy wheels with diamond-cut two-tone finish complete the exterior of the Niro EV.

Inside, you'll find that the Niro EV offers an unexpectedly spacious cabin, this is due to its 2,700mm wheelbase which provides maximum legroom for the occupants, additionally, the 1,805mm width and 1,560mm height of the Niro EV ensures excellent head room. It also offers increased practicality with a cargo space of 451 litres - more than most other electric vehicles.

The interior of the Niro EV is also differentiated from other Niro models with a range of new features and design, with the most prominent being the 'dial-style' shift knob. Unique to the Niro EV is a 7.0-inch LCD display that takes the place of a conventional cluster, allowing the driver to intuitively check driving and the electric powertrain information while on the move. At the centre of the dashboard is a 7.0-inch touchscreen infotainment system that allows owners to locate nearby charging points as well as monitor the level of charge and remaining range.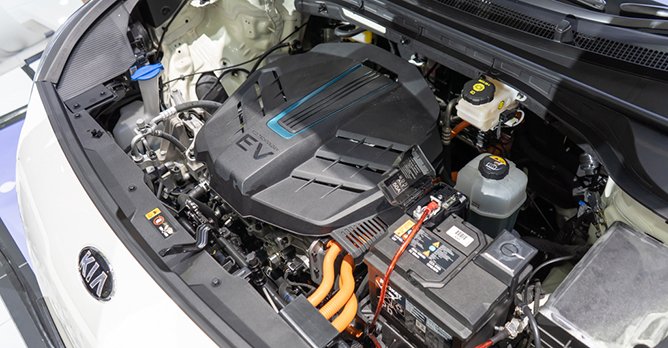 A strong 150kW electric motor propels the Niro EV to 100km/h in a mere 7.8 seconds from a standstill Powering the Niro EV is a powerful 150kW electric motor that offers a whopping 395Nm of instantaneous torque from a standstill, this allows it to complete the century sprint in just 7.8 seconds.

Equipped with a high-capacity 64kWh lithium ion polymer battery pack, the Niro EV has an excellent driving range of up to 455km on a single charge. With compatibility for fast charging, it only takes 54 minutes to recharge its battery from 0% to 80% with a 100kW fast charger.

The Niro EV is also equipped with a range of Kia's Advanced Driver Assistance Systems to provide unparalleled safety for its occupants. These include the Blindspot Collision Warning which uses sensors to warn the driver of approaching vehicle in the blind spots, a 7-airbag system, Electronic Stability Control and Hill-Start Assist Control.

As the road tax for an electric vehicle in Singapore is derived from its motor power output, the Kia Niro EV's road tax is slightly higher, at $2,246 a year. There is however substantial cost savings to be had from the lower cost of recharging as compared to refilling an internal combustion engine vehicle.



Price as of press time (inclusive of COE)



Kia Niro EV - $183,999 (OMV $52,000)
---
---