Simple and intuitive to use, the Jabees Beeing connects to your phone and other devices smoothly with no setup required.

The latest product from renowned electronics manufacturer Jabees, is the Beeing. The newest in true wireless earbuds, the Beeing features compatibility with almost all Qi-enabled charging devices, making charging a snap.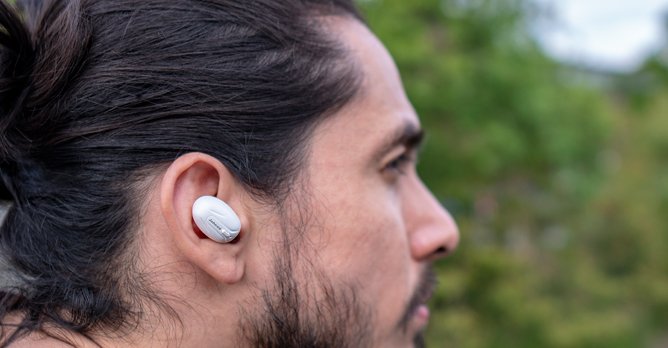 The Jabees Beeing wireless earbuds also has intuitive features to perform an array of tasks, such as answering calls or pausing music Life's much more convenient with virtual intelligent assistants like Siri and Google Assistant. Take them along with you everywhere with the Beeing, and access your personal assistants with just a click of a button.

Simple and intuitive to use, the Beeing connects to your phone and other devices smoothly with no setup required.

With Bluetooth 5.0, the Beeing gives you up to 10 meters of working distance and still maintain crystal clear sound.

Sound quality is also improved with the implemention of graphene nanomembrane in its construction, which enhances treble and isolates noise.

The moment you take the earbuds out of their casing, they immediately turn on and begin connecting to each other. Placing them back in automatically turns them off to begin charging, saving battery and ensuring that you're never out of juice. With 4 hours of playtime on one single charge, you can savor hours of music and talk time. The charging case can hold up to a whopping 12 hours of additional playtime - never be caught off-guard again.

The Beeing is also designed to stay securely and comfortably in your ears. Additional silicon eartips in various shapes and sizes are included to accommodate ear structures of all kinds. For the active person on the go, the Beeing is designed to withstand the most intensive workout conditions. With an IPX4 rating, these hardy earbuds can endure even splashing water.

The Jabees Beeing is readily available through AXTRO Sports, and retails at S$119.00 (incl GST). For more infomation, visit AXTRO Sports' website here.
---
---