Grab has announced a revamped driver app that features four new components to help its driver-partners earn more and save more.

Grab, the leading super app in Southeast Asia, announced today that it is rolling out a refreshed driver app with the aim to help driver-partners earn more and save more. The updated app will feature four key components - a Discover hub to help driver-partners access more earning opportuniti
es from Grab's growing ecosystem, GrabBenefits to enable 
easier access to a growing array of rewards and savings, Earnings Overview for greater clarity on day-to-day earnings, and an enhanced Driver Profile that recognises their efforts and motivates them to do better.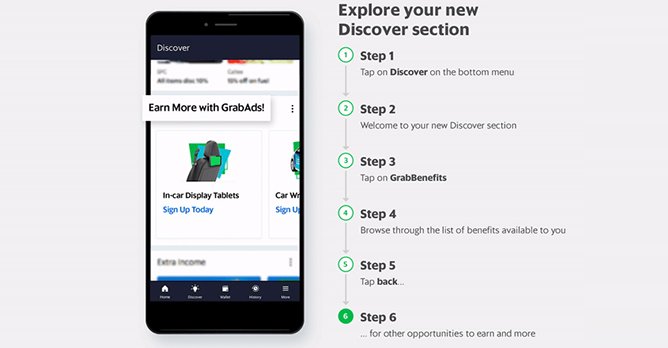 The revamped app helps driver-partners earn more, save more, and drive better Designed with feedback from Grab's driver-partners, and to address their top requests and biggest needs, the redesigned driver app does more for drivers, whether it's helping them achieve higher earnings and greater savings, or by offering a more stress-free and rewarding on-the-job experience. 

The Discover hub allows drivers to find new earning opportunities beyond driving through GrabAds, such as using their cars as mobile billboards or through in-car engagements. It also gives drivers easy access to GrabBenefits, and features a feed which surfaces information such as heat maps and events taking place nearby to help drivers earn more through driving. As Grab continues to expand its ecosystem with more services, Grab will bring a wider array of earning opportunities to its driver-partners, all accessible through the Discover hub.

With the new GrabBenefits section, drivers can now easily browse and redeem discounts, deals and rewards exclusive to them, all through the Grab app. Driver-partners in Singapore will find offers such as up to 30% fuel discounts, mobile phone plan discounts, healthcare and dental benefits, and more.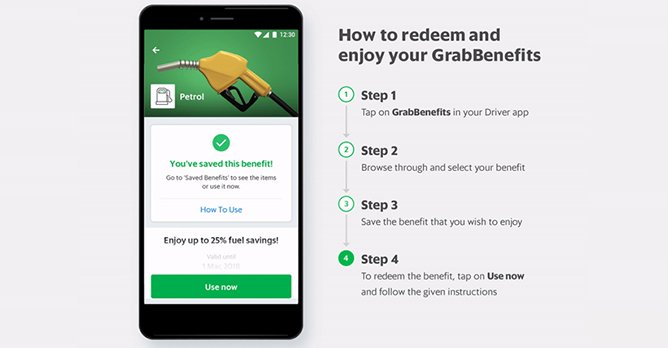 The new GrabBenefits grants drivers easy access to a wide range of exclusive discounts, deals and rewards The enhanced Earnings Overview tab gives drivers greater clarity and better insights into their earnings. They can view their daily and weekly earnings, with a detailed breakdown that shows income from fares, incentives and tips, and deductions for commissions.

Finally, a fun and engaging Driver Profile page will enhance drivers' experience by celebrating them, their achievements and also provide information to help them make the most of the feedback from their passengers. Drivers can see the compliment badges and positive feedback they've earned from their customers, a more detailed breakdown of their rating, and areas of improvement.



"For the millions of driver

-partners who earn a living through Grab, our commitment is to empower them to succeed on their own terms, but with peace of mind to the everyday. They work hard every day to provide for themselves and their famili

es, so it's on us to keep pushing 

the boundaries. To offer them more opportunities to earn with us, to support them with more benefits, and to ensure they have an enjoyable everyday experience with Grab. The refreshed app is another step forward in that di

rection," said Y

ee Wee

Tang

, Head of Grab Singapore

.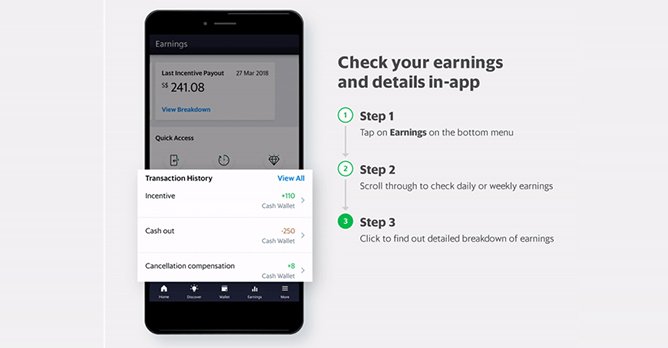 The enhanced Earnings Overview allows drivers greater insights into their daily and weekly earnings The new features are being rolled out in stages to all Grab driver-partners across Southeast Asia. Selected driver-partners in Singapore today already have access to Discover Hub and GrabBenefits, and will be rolled out to all drivers in Singapore progressively. The Earnings Overview and Driver Profile features will be progressively rolled out in the coming months. 

"We want our driver-partners to know that we have their backs. We offer the most comprehensive driver welfare and benefits programme in Singapore, which includes scholarships and bursaries for our driver-partners' children, health and dental benefits, Medisave co-contribution, mobile phone plan discounts, and more. We've pioneered standards for driver-partner welfare that others have followed, but we believe we can raise the benchmark even more. We will keep innovating and keep improving because we know that the better we get, the better their everyday life. Grab's ecosystem is growing with more partners and more services, and with that, we will bring even more benefits to our driver-partners and their family," added Wee Tang.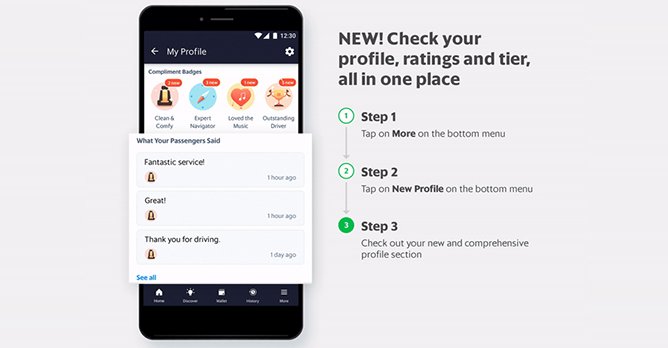 The detailed Driver Profile page offers drivers greater clarity on their performance and achievements Beyond the upgraded driver app, Grab has rolled out a number of significant enhancements for its driver-partners this year. These include a driver safety toolkit that allows drivers to share their live location plus an alert button that will connect them with a security company in cases of emergency, the tipping function that allows drivers to be rewarded for great service provided, and automated ERP input so drivers no longer need to worry about keying in ERP charges.

Also, Grab has enhanced its welfare offerings with its Prolonged Medical Leave insurance that covers eligible driver-partners under the Emerald Circle program for lost earnings due to illness and injuries. 
---
---