With its design inspired by the FT-1 Concept, snug two-seater configuration and a driver-focused cabin, the all new Toyota Supra is getting ready for the road.

In January 2019, the fifth generation GR Supra, the first global Toyota Gazoo Racing model, made its undisguised world debut at the North American International Auto Show in Detroit, ending years of anticipation and speculation among sports car enthusiasts around the world. Behind the new Supra is a long lineage of unique Toyota sports and GT cars. Ahead of it awaits the world's great driving roads, some of which were used to develop this all new expression of Toyota pure sports car performance.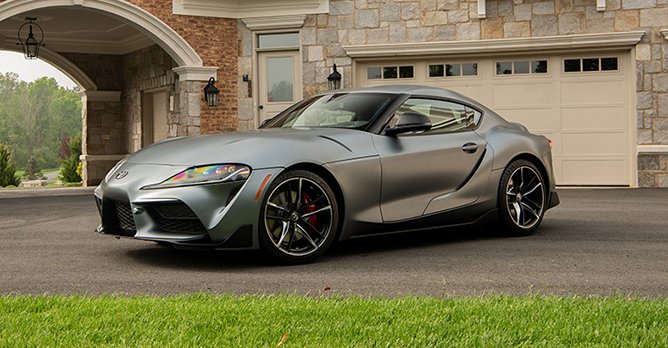 The 2020 Supra is a forward-looking sports car, brimming with a cutting-edge powertrain, chassis and multimedia technology The 2020 Supra goes on sale this July in the U.S and driving enthusiasts can look forward to an exhilarating blend of power, precision and agility thanks to a rear-wheel drive design that honors Toyota sports car heritage with its low centre of gravity and optimal weight balance.

By defining specific performance and handling targets early in development, Toyota Gazoo Racing in Japan, with much input from Toyota Motor North America and Toyota Motor Europe, imbued the Supra with its own driving characteristics. While posting the kind of performance numbers that excite enthusiasts, the 2020 Supra will reward drivers of all skill levels with a thrilling sports car feel, even in everyday driving.

Toyota President and Master Driver Akio Toyoda tested the Supra on the Nurburgring and other racing venues to give his personal feedback to ensure this new model would exceed the expectations of Supra fans across the globe.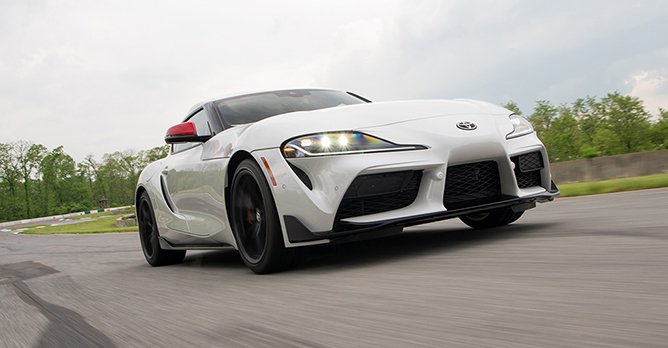 Toyota estimates 0-100km/h acceleration in 4.1 seconds, which makes the Supra the quickest Toyota-branded production vehicle to date The 2020 Supra will features a 3.0-litre turbocharged in-line six that will produce 335hp and 500Nm of torque. The torque comes on strong from very low engine speeds, thanks to a combination of a twin-scroll turbocharger, direct fuel injection and continuously variable timing on both the intake and exhaust camshafts.

Engine response is further enhanced thanks to the in-line six's variable intake valve lift system that adjusts intake valve timing and duration.  

The eight-speed automatic transmission delivers quick up and downshifts and features paddle shifters for manual control when desired. Short ratios for the lower gears and a Launch Control function, which is not intended for use on public roads or for repeated short interval use, enable powerful acceleration with maximum traction. Top track speed is electronically limited to 250km/h.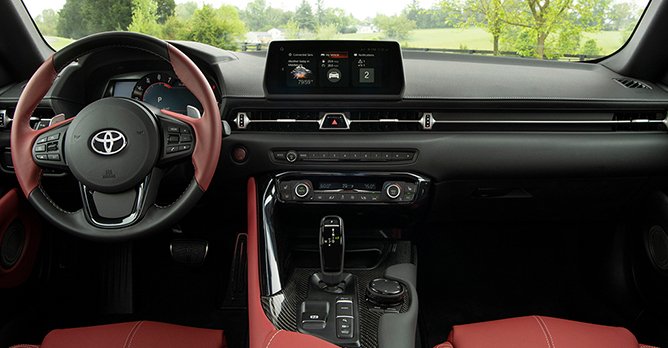 Toyota designers took a fresh approach to designing the center console, giving it an asymmetrical shape that tightly envelops the driver The 2020 Supra offers two driving modes, Normal and Sport. Sport Mode sharpens throttle response, increasing steering weight, improving transmission shift crispness, more aggressive active differential tuning and amplifying exhaust sound.

Traction Mode is part of the Vehicle Stability Control System and when selected provides track-driving capability by reducing intervention of the traction and stability control functions. Launch Control is available when the vehicle is in Sport and Traction mode. 

For performance driving enthusiasts, the Supra will have an active differential that uses an electric motor and multiplate clutches to control lateral torque. The active differential precisely controls torque distribution between the rear wheels, with stepless variable locking from 0-100%. The differential can control torque distribution between the rear wheels when cornering under both acceleration and braking, enabling greater momentum through a corner.
---
---