The Nissan City Hub will be fully dedicated to an exclusive and immersive experience to showcase Nissan's vision for tomorrow's mobility.

The Nissan City Hub is a revolutionary new approach that integrates a digital ecosystem with an eye-catching concept store.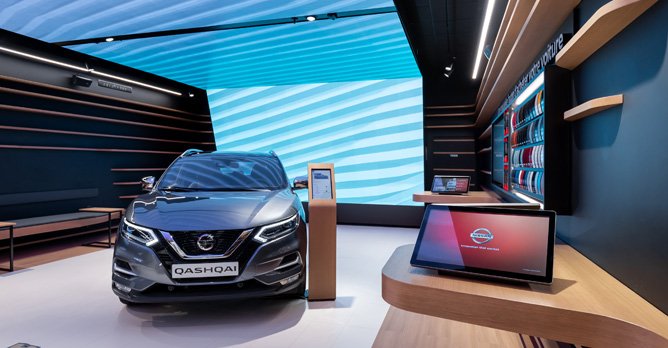 The Nissan City Hub offers a completely new car-buying experience for customers Offering a completely new customer experience, unique in the automotive industry, the Nissan City Hub is a bustling destination with bold ambitions.

New e-commerce solutions offered to consumers at Nissan City Hub have been developed to ensure ease of use and multiple opportunities to personify and purchase cars directly online, with a 'no-pressure' approach. With just a few clicks, it's never been easier to buy a Nissan Leaf or Qashqai.

Customers are greeted by Nissan Intelligent Mobility Ambassadors, a team from diverse retailing backgrounds such as creative arts, music and new technologies, to lead this new customer experience. Nissan Intelligent Mobility takes centre stage with its icon, the Nissan Leaf, Europe's best-selling electric car, and new technologies such as ProPILOT, which gives the driver more confidence behind the wheel.

After the planned expansion, Nissan City Hub will also be the opportunity for consumers to discover xStorage Home, an innovative energy storage solution, that uses new and second-life Nissan EV batteries, and France's first electric vehicle quick-charging network. To go further, Nissan City Hub customers will have the possibility to have their cars delivered at the Hub itself, or in another dealership, or even at home.

This new pillar in the Nissan future retail distribution strategy is setting the path for the expansion of a new, unique commercial vision that aims to be deployed in other similar metropolitan spots, such as Berlin, Tokyo or Shanghai.
---
---