Mercedes-Benz is presenting the redesigned GLC Coupe, which skillfully and intricately combines the sportiness of a coupe with the functionality of an SUV.

The updated Mercedes-Benz GLC Coupe impresses with its distinctive appearance, innovative driving assistance systems, a new engine lineup and the latest generation of the Mercedes-Benz User Experience (MBUX) multimedia system with its wide range of control options.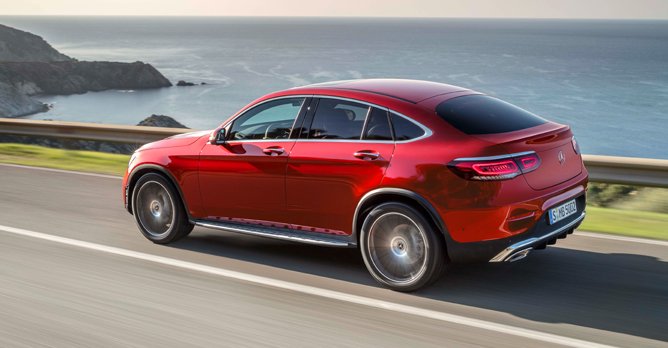 The updated Mercedes-Benz GLC Coupe has more pronounced A-pillars and a rounded rear window, which loweres the roof silhouette The GLC Coupe is characterised by its dynamic appearance and elegant lines. Hallmark off-road features include the dominant front end, powerful forms and standard-fit chrome details like the front and rear underride guards.

Its coupe character shines through in the squat silhouette with the dropping roof line and rounded rear window. The powerfully contoured diamond radiator grille with integrated star and single louvre typical of a coupe is complemented by the distinctive air intakes and the new contours of the standard-fit LED high-performance headlamps.

The GLC Coupe shows how the design features of a coupe can be harmonised with those of an SUV with its dropping roof line, the greenhouse that fits perfectly into the silhouette and the feature line in combination with the eye-catching chrome strip on the high beltline, the muscular shoulders and the rearwards-ascending light-catching contour.

On top of this, the dynamic proportions and the generous ground clearance emphasise the GLC Coupe's range of abilities - it's just at home on smooth tarmac as it is on a dirt track.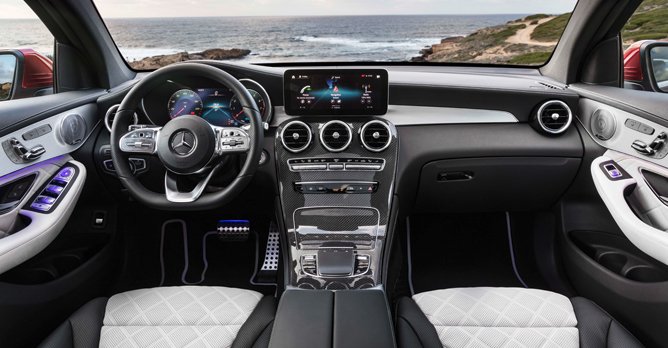 Particular focus is given to the interior of the GLC Coupe, with its elegant sweeping lines across the console panel Flawless luxury and user-friendly controls abound in the Coupe's interior. As is usual for Mercedes-Benz, particular importance is given to the interior. The focus is on the dashboard and the flowing lines of the centre console.

The large, one-piece console panel sweeps elegantly from the centre air vents to the armrest. The interior colour, Magma Grey, is completely new.

The completely revised multifunction steering wheel is available in two versions.

Its operation of Active Distance Assist DISTRONIC and the Touch Control buttons for controlling the instrument cluster and the infotainment system as well as the acoustic input feedback set new standards.

At market launch, the GLC Coupe will be available with new petrol engines that are electrified by the integration of EQ Boost. The belt-driven starter-generator is responsible for hybrid functions such as boost or energy recuperation, while allowing fuel savings that were previously the reserve of high-voltage hybrid technology.
---
---